Social
Human Rights and Employees' Care
The Company realizes the importance of human rights and equality, thereby applying the Code of Conduct in accordance with BSCI standards to maximize the benefits of employees, customers, communities and the surrounding society. The Company has announced social and labor policies and established guidelines for fair treatment for employees at all levels in accordance with the framework of business ethics and Code of Conduct, including giving importance to promoting employment of disadvantaged workers and the disabled, promoting education for children and youth in the areas where we operate, supporting the United Nations Sustainable Development Goals such as poverty eradication, quality education, decent work and reducing social inequality.
The Company hires people with disabilities in accordance with the Promotion and Development of the Quality of Life of Persons with Disabilities Act BE 2550 (Section 33), both for employment within the Company and in collaboration with the Federation of Thai Industries, Hat Yai Hospital and Songkhla Provincial Social Development and Human Security Office to find suitable jobs in various agencies such as hospitals, sub-district administrative organizations, schools and small development centers, etc., with employment in Songkhla Province, Trang Province and Suratthani Province for the period from 2016 to the present. Besides employment, the Company has formulated a plan to visit said staff to monitor their development, build morale and encouragement, as well as organizing a New Year event annually for disabled employees on the date of signing their employment contract. Continuous employment enables people with disabilities to earn income, have a better quality of life, allowing them to live proudly as a member of society. This is in line with the Company's sustainable development guidelines for human rights.
| | 2018 | 2019 | 2020 | 2021 |
| --- | --- | --- | --- | --- |
| Number (persons) | 47 | 60 | 71 | 90 |
| Employment value (Million Baht.) | 3.7 | 4.7 | 6.0 | 6.6 |
Human Rights
The Company has a policy on human rights and non-discrimination based on compliance with the UN Global Compact, Universal Declaration of Human Rights (UDHR), the United Nations Guiding Principles on Business and Human Rights (UNGP) as the guidelines and framework to induce confidence in operating a business that respects human rights. In this matter, Guidelines for the Board of Directors, executives and employees at all levels have been prescribed.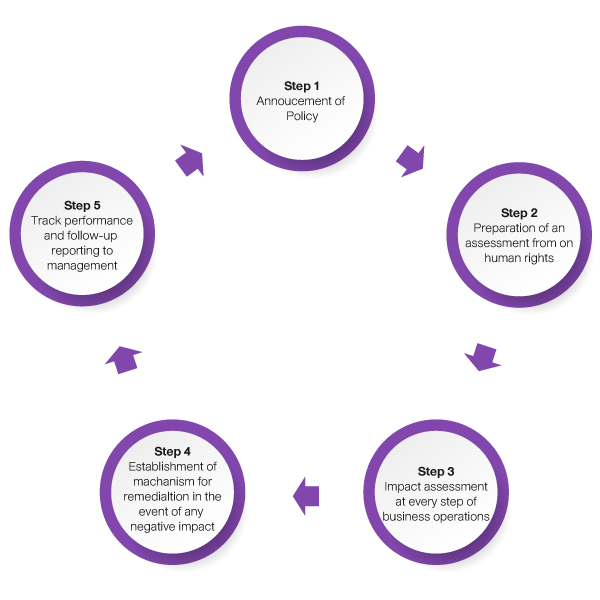 Major operations in 2021
The Company conducted human rights assessments in 2 main areas covering all 3 factories and the Bangkok office accounted for 100% of the company's operating area (GRI412-1), namely the major human rights risks to employees and important human rights risks to communities and society in the area surrounding the location of the factory. Comprehensive human rights assessments are planned for the coming years.
Although the examination of the two human rights issues mentioned above found that there was no identified risk issue because there had never been an incident that had a significant impact. Nevertheless, the Company attaches great importance to issues of safety, health and hygiene (in the context of the COVID-19 pandemic) and protection of personal information. Therefore, there are measures to prevent and mitigate possible impacts from business operations as follows:
Protection of personal information
The Company has established a Committees and working group in compliance with the Personal Data Protection Act B.E. 2562 to create understanding among the operators in the preparation process of the Company and companies in the corporate group, including establishing a privacy policy, processes regarding consent, support for the exercising of rights of the owner of the data, preparation of required documents, as well as the formulation of measures to maintain the security of information, etc.
The working group has coordinated with the department manager or representatives of agencies assigned to collect information and study the processes related to the protection of personal information of the Company and the corporate group, conducting inquiries and interviews with representatives from each department in collaboration with external legal advisors to prepare gap assessment reports and to review and update documents and contracts related to the business operations of the Company and the corporate group to comply with the Personal Data Protection Act B.E. 2562.
Occupational Health
The Company's management of human rights covers emerging epidemics, especially in the case of the Covid-19 crisis, whereby the Company has set up a working group, central communications team to formulate policies and management guidelines in the pandemic situation for the entire corporate group. All companies in the corporate group have set up emergency teams to analyze the situation, draft an emergency plan and provide necessary protective equipment such as masks, alcohol gel, including adjusting work hours appropriately for employees, contractors, and establishing additional measures to ensure safety at work.
Safety
The Company's operation is in accordance with ISO 45001 standards whereby it complies with the law on safety, occupational health and working environment, provides knowledge and training in accordance with the operating safety regulations, provides personal protective equipment, as well as applying modern protective equipment and technology to reduce potential risks in the workplace. In addition, the Company provides annual health checks based on risk factors and daily basic health checks before work for all employees in the Company. Furthermore, the Company also provides training on occupational safety for its partners to create safe work environment in the operation of the Company.
The Company takes human rights of employees and communities around the area where the factory is located into careful account, details of which are as follows:
Human Rights of workers and employees
Sufficient distribution of masks to all employees to wear to work every day during the situation of the Covid-19 pandemic.
Making the workplace safe for everyone by spraying disinfectant and regularly wiping the surfaces and devices with rubbing alcohol.
A temperature screening point is set up before entering the workplace, and additional hand washing stations and alcohol gel dispensers positioned around the area.
Workplace and cafeterias are organized according to social distancing principles.
Providing alternative Covid-19 vaccines for all employees.
Conducting annual health examinations according to risk factors as well as random ATK testing of employees to ensure confidence in a safe workplace environment.
Human Rights of the community and society around the area where the factory is located
Glove distribution project whereby rubber gloves were donated to the provincial public health officers and public health service units where the factory is located.
Field visit to survey the impact of the Company's operations.
Negotiation
The Company provides opportunities for communication between executives and employees in negotiating employee benefits with the Company through the welfare committees which comprise representatives elected by the employees of each of the companies. By 100% of all employees are under a collective bargaining agreement (GRI 102-41). The Company also provides channels for complaints and suggestions via mail and electronic mail to the Secretary of each company.
Measures for receiving complaints and whistleblowing
The Company provides communication channels with employees and stakeholders on human rights issues, including channels for receiving reports or complaints about human rights violations that may arise from the Company's operations as well as providing measures to protect complainants and maintain confidentiality, measures to monitor impacts and remediation measures, based on fairness and human rights principles.
The channels for receiving complaints and whistleblowing are as follows:
Notification through supervisors, factory manager or human resources department (at Corporate Headquarters)
Via electronic mail to the secretary of the company.
By calling the direct phone number of the company.
From regular consultative meetings between management and the Welfare Committee of the companies in the corporate group, which represents employees, there were no major labor dispute and no human rights complaints.
Moreover, there has not been any issue regarding significant violation of societal legal or regulatory requirements and there no cases of alleged negative impact on social issues in the past 3 years.
Employees' care
Employees are an important resource to drive operations leading the organization's success. The Company therefore places importance on building a good human resource management system, from recruitment of new employees, standard compensation management, setting goals and plans for development of employee potential to promote career advancement and growth, paying attention to the safety and health of employees and giving freedom and respect to employees' rights to represent, collectively assemble and negotiate (GRI 102-41), having a welfare committee in the workplace comprising elected representatives of employees to represent them in discussions with employers on such issues as other welfare/benefits aside from the base prescription law and organizing various activities within the Company, as well as listening to the opinions and suggestions from employees at all levels equally and equitably through various channels such as feedback boxes, meetings, questionnaires, etc.
In addition to legal returns such as the Social Security Fund, Workmen's Compensation Fund, employees of the Company will be paid in the form of overtime pay, extra money for shift workers, paid vacation, annual bonus and basic benefits for employees to have a good quality of life, such as employee uniforms, rent subsidy, accommodation, per diem, health and accident insurance, Provident Fund, retirement payment, emergency aid, organizing Happy Workplace activities and study visits, etc.(GRI 401-2)
Employment
The total number of employees of the Company as of December 31, 2021 is 9,689.
| จำแนกตามเพศ BY Sex (G4-10) | (คน) | ร้อยละ |
| --- | --- | --- |
| ชาย Male | 4,781 | 49% |
| หญิง Female | 4,908 | 51% |
| รวม Total | 9,689 | 100% |
| จำแนกตามระดับ BY Level (G4-10) | | |
| ผู้จัดการขึ้นไป Top Management ( L7-L11) | 28 | 0.3% |
| พนักงานระดับบริหาร Management ( L5-L6 ) | 328 | 3.4% |
| พนักงานระดับปฎิบัติการ Operation ( L1-L4 ) | 9,333 | 96.3% |
| จำแนกตามอายุ BY Age (G4-10) | | |
| อายุน้อยกว่า 30 ปี Under 30 years | 4,819 | 49.7% |
| ระหว่าง 30-50 ปี 30-50 years | 4,630 | 47.8% |
| อายุสูงกว่า 50 ปีขึ้นไป Upper 50 years | 240 | 2.5% |
| จำแนกตามพื้นที่ BY Area (G4-10) | | |
| Thailand | 6,883 | 70.52% |
| South | 6,454 | 66.61% |
| Northeast | 182 | 1.88% |
| Eastern region | 13 | 0.13% |
| North | 52 | 0.54% |
| Central | 110 | 1.14% |
| Western | 22 | 0.23% |
| Myanmar | - | 0.00% |
| Cambodia | 2,269 | 23.42% |
| Laos | 563 | 5.81% |
| Malaysia | 13 | 0.13% |
| Morocco | 8 | 0.08% |
| Taiwan | 1 | 0.01% |
| India | 1 | 0.01% |
| พนักงานพ้นสภาพตามเพศ Employee termination by sex (G4-LA1) | | |
| เพศชาย | 1,183 | 42% |
| เพศหญิง | 1,650 | 58% |
| รวม | 2,833 | 100% |
| พนักงานพ้นสภาพตามช่วงวัย Employee Termination by Age (G4-LA1) | | |
| อายุน้อยกว่า 30 ปี Under 30 years | 1,856 | 65.5% |
| ระหว่าง 30-50 ปี 30-50 years | 957 | 33.8% |
| อายุสูงกว่า 50 ปีขึ้นไป Upper 50 years | 20 | 0.7% |
| รวม | 2,833 | 100% |
| อัตราการลาออก Turnover (G4-LA1) | | |
| เป้าหมาย | < 3% | 2.44% |
| อัตราพนักงานเข้าใหม่ ตามเพศ New Employee by sex (G4-LA1) | | |
| เพศชาย Male | 1,932 | 47% |
| เพศหญิง Female | 2,207 | 53% |
| | 4,139 | 100% |
| พนักงานเข้าใหม่ตามช่วงอายุ (G4-LA1) New Employee by age | | |
| อายุน้อยกว่า 30 ปี Under 30 years | 3,028 | 73.2% |
| ระหว่าง 30-50 ปี 30-50 years | 1,098 | 26.5% |
| อายุสูงกว่า 50 ปีขึ้นไป Upper 50 years | 13 | 0.3% |
| รวม Total | 4,139 | 100% |
| การลาคลอดบุตร Maternity leave (G4-LA3) | | |
| พนักงานที่ลาคลอดบุตร | 201 | |
| พนักงานที่กลับมาทำงานหลังคลอด Return after maternity leave | 162 | 81% |
| พนักงานที่ปรับตำแหน่ง Promoted Employee | | 2.86 |
Recruitment
The Company recruits employees with consideration to human rights and non-discrimination in any form, whether due to gender, age, religion, nationality, race, class or disability. The Company has a policy of recruiting from internal personnel through the process of job modification or transfer of work lines in order to foster advancement and growth among employees. For outsourcing, the Company recruits personnel according to the specific job duties for each position, along with measure of EQ or emotional intelligence in order to get employees who are good and competent, suitable for the job position whereby the necessary recruitment details are specified in full through various channels such as the Company's website, various job search websites, open admission to universities and recruitment in provincial job fairs so that interested parties can choose to apply for the desired position equally.
With respect to hiring foreign workers, the Company complies with the law and follows the procedure in accordance with the requirements on recruiting migrant workers from neighboring countries, as well as adopting selection methods, with evaluation of the recruiting agencies and recruiting procedures thereof. The Company also conducts an audit of legal and regulatory compliance in this matter by the Quality System Department at once a year.
Compensation management
The Company provides fair compensation to employees from performance appraisal and establishes a KPI (Key Performance Index) system as specified by the Company, consistent with labor market conditions and the Company's operating results, in both the short and long term, in the form of salary, diligence allowance and / or bonus, which are equal for both men and women. In order to ensure proper compensation management, the Company conducts compensation and benefits surveys so as to be comparable with similar industries. In 2021, 100 percent of employees are assessed annually based on (KPIs) of each unit (GRI 401-3).
Human resource Development
Policy on human resource development
The Company considers its human resources as valuable and an important driving force for the organization. Therefore, employees at all levels will receive training and development concurrently while on the job in order to learn, practice skills, create attitudes enabling them to properly perform their work according to the job requirement systematically and continuously, so as to have career advancement, business development and extension for the continued growth of the organization, stepping into an organization with world-class standards. The Company has guidelines for human resource development such as (GRI 404-2)
Development and training through on-the-job training according to operational procedures by the supervisor or an expert in that field in order to enhance learning and improve skills during operation. Moreover, there is also a "mentoring system" to provide advice, counseling, work instruction and support for the development of working potential for new employees to be able to adapt to the organization, colleagues, work environment, as well as also creating a positive attitude towards the organization among employees.
Support and promote exchange of knowledge from external organizations through activities such as implementing an annual internal training plan conducted by external trainers (In-house Training: External Trainer) with knowledge and expertise, participation in training with external agencies (External Training / Public Training) both short and long term to exchange knowledge from many organizations that join the training, study visits / visit to external agencies, etc. to increase knowledge, skills and experiences, opening new horizons for the application of Copy & Development (C&D) of positive elements that can be developed to suit the organization to keep up with the changing industry landscape and the competition in the era of digital transformation.
Support and promote learning within the organization, "Sri Trang Gloves Share & Learn", to foster knowledge creation and management in the organization, allowing employees to learn, access, develop and improve various work by supporting and promoting the development of internal trainers who are knowledgeable personnel, with proficiency and expertise to convey their knowledge and share experiences through various activities such as organizing annual training plans (In-house Training), learning through the Self-Learning system, including organizing "STGT Young Blood" activity to create a good corporate culture (STGT Culture) to cultivate attitudes, team work and a work culture according to STGT Core Values for the new generation of employees who joined the Sri Trang Group and strengthening good relationships between new employees from different locations, different cultures, coming to do activities together.
Succession Planning Management to ensure the work continuity in the Company's key positions or leadership continuity vetting talent within the organization with high knowledge, ability to produce excellent work as the organization expects in order to occupy such positions that becomes vacant with emphasis on human resource development to build leadership and readiness to hold such positions continuously in every line of work.
Support and improvement to continuously raise the standard of performance through internal activities such as Kaizen, One Point Lesson (OPL), group activities such as Quality Control Cycle (QCC), etc. Create a platform for the contest and presentation of work for the purpose of knowledge exchange and continued expansion of the results, creating pride for employees.
Support and cooperate with educational institutions, both public and private, to give students practical training in the short and long term. This is to generate preparedness before entering the labor market and promote self-development and organizational development, as well as accommodating external organizations, both public and private, in their requests to conduct study visits, extending cooperation on speakers, experts in different fields, etc. which demonstrates social responsibility and creates a good corporate image of the organization.
| Topic | Unit | 2020 | 2021 |
| --- | --- | --- | --- |
| Training Hours. | Hr. | | |
| Target | | | 40 |
| Total | | 254,615 | 405,509 |
| Average/Person/Year | | 31 | 44 |
| By Gender | | | |
| Female | | 126,695 | 182,003 |
| Male | | 127,920 | 223,506 |
| By Level | | | |
| Operation L1-4 | | 226,506 | 361,977 |
| Middle Management L5-6 | | 24,338 | 40,462 |
| Top Management L7-10 | | 3,771 | 3,070 |
| By Skill | | | |
| Administration | | 325 | 13,767 |
| Manufacturing | | 42,781 | 73,016 |
| On the job training | | 159,404 | 185,623 |
| Service | | 2,057 | 106,431 |
| Technical | | 50,048 | 26,672 |
| Trainng Cost | | | |
| Total cost | Baths. | 2,320,387 | 5,498,973 |
Employee development and promotion of innovation
The Company has a unit to carry out development activities. The Kaizen Suggestion and Quality Control Circle (QCC) activities were introduced to drive improvement in employee productivity and foster new innovations, of which the results in 2021 can be summarized as follows:
Activities
2020
2021
Number of topics
Cost reduction (million Baht)
Number of topics
Cost reduction (million Baht)
OPL
1,529
-
2,159
-
Kaizen
656
115
1,092
241
QCC
199
123
216
92
ศรีตรังโกลฟส์ มอบสิ่งของอุปโภคบริโภคต้อนรับเดือนรอมฎอน
Our Social Responsibility during Covid-19