Sri Trang Gloves sees chance to expand fast by investing in automation
The company has been making 'continuous improvements to its productivity and efficiency' even before average selling prices of gloves began falling significantly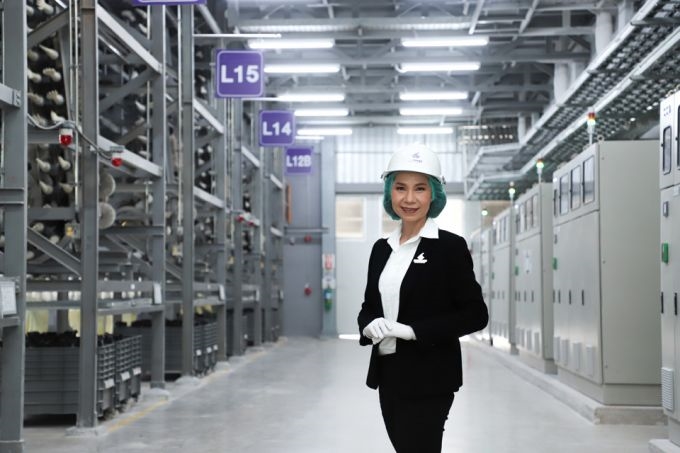 Jarinya Jirojkul, chief executive of Sri Trang Gloves Thailand, says the company is looking to expand its capacity
and automate certain processes as part of its long-term plan. PHOTO: SRI TRANG GLOVES THAILAND
Singapore
THE latest glove maker to hit the Singapore market might be a minnow compared to the industry leaders, but it has big plans to increase its capacity and lift its productivity in the wake of the massive pandemic-driven boom in demand.
Jarinya Jirojkul, CEO of Sri Trang Gloves Thailand (STGT), told The Business Times in a recent interview that she expects global shortage of gloves to possibly last for the next 12 months, providing a window for her company to grow quickly.
STGT expects its annual production capacity to rise from 33.3 billion pieces currently to 50 billion pieces next year. By 2026, it is projecting its annual production capacity to hit 102 billion pieces. This translates to an average annual growth rate of 24 per cent over the course of 2017 to 2026.
The company is working with a capital expenditure programme totalling 44 billion baht (S$1.87 billion) that stretches to 2026.
Yet, this is a perilous time to be adding such a significant amount of additional capacity. With the global roll-out of Covid-19 vaccines, there is a risk of demand stalling.
On top of that, STGT's rivals large and small are scrambling to increase supply too. For instance, Malaysia's Top Glove stated in recent filings that it plans to increase its production capacity to 205 billion pieces by 2024, up from about 96 billion currently.
Ms Jarinya said that average selling prices (ASPs) for gloves are likely to drop as additional supply eventually hits the market. In fact, she estimates that the ASPs of gloves are currently about 15-20 per cent less than they were in Q1 2021.
"This is in our expectations, and in our budget," she said. "In Q3 and Q4, we have to monitor the market situation closely to see how the situation is."
The key to surviving the surge in supply is to drive up efficiency and productivity, and perhaps even implement some cost-cutting measures.
Ms Jarinya figures STGT is ahead of the game here, noting that the company has been making "continuous improvements to its productivity and efficiency" even before ASPs began falling significantly.
"We invest in more automation and reduce our workforce by rearranging and reducing the production process and activities in our factories," she said.
For instance, STGT has increased the speed of its production lines to be able to produce 54,000 pieces of gloves per hour, up from 10,000 pieces previously. STGT factories in the past used four people to stack the gloves, but now only uses one worker.
The next step for the company is auto-packing, which will automate the process of gloves being put into inner and outer boxes which are then transported to warehouses.
These efficiency gains come at a cost though. Besides investment in new machinery, the company also has to reskill its workers. But Ms Jarinya says such investments typically deliver returns within one or two years.
Separately, STGT is not banking on just the medical sector alone, Ms Jarinya said. The company has successfully made inroads into the non-medical sectors, where demand could remain firm even after Covid-19 runs its course.
STGT produces latex powdered gloves, latex powder-free gloves and nitrile gloves.
Ms Jarinya said the three products cater to different types of consumers. Latex powdered gloves are the cheapest option which makes it attractive to emerging markets, while the nitrile gloves are better in terms of resistance against oil, chemicals or high temperatures.
STGT's production lines are also able to switch easily between the three types of gloves with "minimal trouble", allowing it to quickly respond to changes in demand in the markets.
STGT has a primary listing in Bangkok, but recently obtained a secondary listing in Singapore in a bid to widen its investor base and gain easy access to capital markets across the region. Its shares began trading on the Mainboard of the Singapore Exchange on May 17.
The company is a unit of Thai integrated rubber group Sri Trang Agro-Industry, which is itself dual-listed in Bangkok and Singapore.
To gain further access to international capital markets, STGT is not ruling out a third listing in other markets. Ms Jarinya said during the interview that Hong Kong is one possibile option, although nothing has been set in stone yet.
STGT currently has a market capitalisation of S$5.69 billion. By comparison, Top Glove has a market value of S$12.81 billion. Top Glove, which is listed in Kuala Lumpur and Singapore, was recently reported to have delayed its plans to list in Hong Kong.
Like other glove manufacturers, STGT experienced a massive rise in profitability since the onset of the pandemic, driven by increased sales volumes and ASPs.
For Q1 2021, the company posted a record net profit of 10.05 billion baht, up from 428.6 million baht in Q1 2020. Revenue for the quarter came in at 15.43 billion baht, up from 3.78 billion baht in Q1 2020.
As supply increases across the sector, and ASPs decline, it seems unlikely that the company will be able to sustain this level of profitability. Yet, the company is still aiming to provide investors with good returns, Ms Jarinya said.
Shares in STGT ended Monday 4.7 per cent or S$0.09 up at S$1.99 on the Singapore bourse, and 1.7 per cent or 0.75 baht down at 43.25 baht in Bangkok.
Source : businesstimes