'Sri Trang Gloves - Trang Branch' boosts workers' care to international standard – awarded European 'BSCI-Grade A' – after the Hat Yai Branch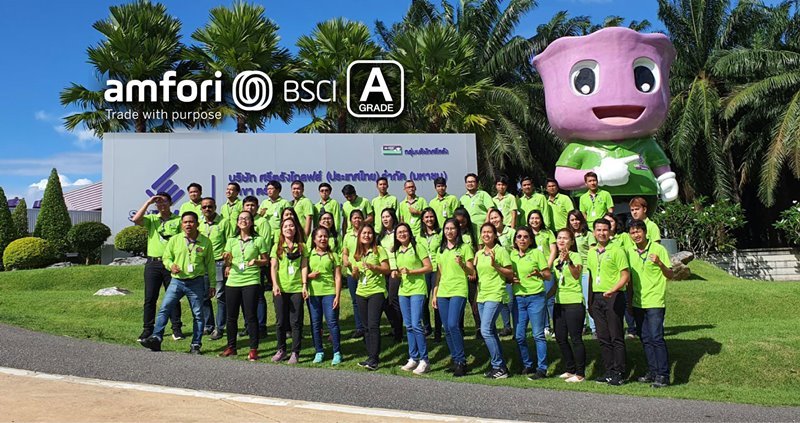 Sri Trang Gloves (Thailand) Public Company Limited (STGT) – Trang Branch elevated the standard in its care and safety for its workforce and received the highest grade of "BSCI-Grade A" from the Business Social Compliance Initiative (BSCI), which is a program of the Foreign Trade Association of Europe. STGT Trang Branch was the second STGT unit honored after the STGT Hat Yai Branch. The Hat Yai Branch has been presented with this award continuously since 2013 following the Company's determination to raise the level of care for its workforce in terms of benefits, quality of life, environmental conditions, and safety in accordance with the standards and the judging criteria.
Ms Jarinya Jirojkul, Chief Executive Officer of Sri Trang Gloves (Thailand) Plc. , one of the world's largest producers and distributors of natural latex, and nitrile rubber gloves, announced that STGT Hat Yai, Trang and Surat Thani branches laid out business plans that give full importance to workforce welfare and environmental conditions within the organization, workplace society, ethical and fully compliant business operations, and followed through on those plans. The Company is considered to be Thailand's first rubber glove manufacturer to realize the importance of such an initiative and systematically applied the BSCI standard within the organization. This dedication resulted in Sri Trang Gloves (Thailand) Plc. Hat Yai Branch being the Company's first manufacturing facility to receive the "BSCI Standard – Grade A" every year since 2013.
Most recently in October 2020, Sri Trang Gloves (Thailand) Plc. Trang Branch became the second STGT manufacturing facility to be bestowed with "BSCI Standard – Grade A" after meeting or exceeding all the required standard assessment criteria while also receiving full confidence in quality and ethics from customers in Thailand and abroad. This has truly reflected the Company's attentiveness to the welfare of the workforce in accordance with international standards in order to raise the quality of life for its workers.
The Company gives top priority to all employees from their first day by providing benefits such as uniforms, PPE (personal protective equipment), initial health checks, high safety and health standards to ensure a hygienic workplace, and the installation of emergency equipment in key areas. Strict security is provided within the factory premises and workers dormitories. Also provided is a clinic with nursing staff available 24 hours as well as free annual health checkup, among other offerings.
"We believe that when the staff are happy at work, they invest in our product and produce high quality rubber gloves in line the Company's 'Touch of Life' philosophy. STGT's promise is that every touch is meaningful to life, and thus to produce and deliver high-quality rubber gloves that protect every user's touches we must care for and protect our team. Therefore, in addition to the benefits and programs to care for our workers during operating hours, after work, we also provide relaxation areas and sports courts for the employees to enjoy their leisurely free time together. Additionally, it is important to us that employees have a voice in our operations. Therefore employees are encourgaged to participate in submitting recommendations through the Welfare Committee. In the future, we are determined to elevate Sri Trang Gloves (Thailand) Plc. Surat Thani Branch to also earn the 'BSCI Standard – Grade A'," Ms Jarinya concluded.