Sri Trang Gloves expands to match up with Covid-19 fight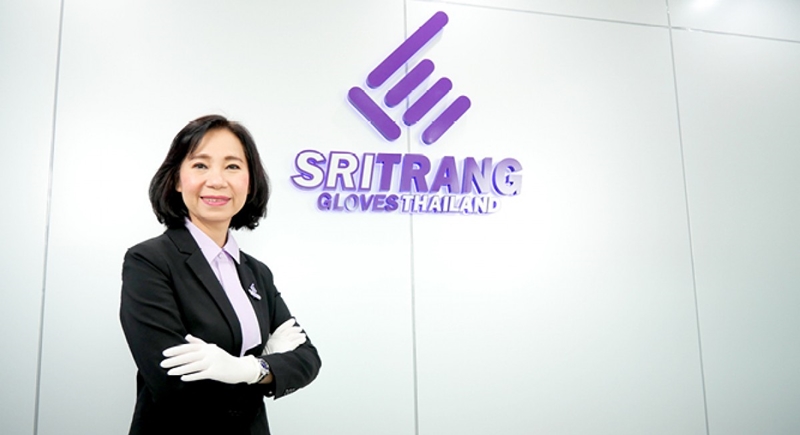 Placed third on the world's largest glove producers is Sri Trang Gloves. With more than 7,800 employees and a total of 147 production lines, Sri Trang Gloves can manufacture 33.3 billion pieces of gloves per year. According to the company, this makes it the largest rubber glove manufacturer in Thailand.
On May 10, the company made its debut on the Mainboard of the Singapore Exchange (SGX) via a secondary listing, less than a year after its primary listing on the Stock Exchange of Thailand (SET).
"We understand that Singapore is ranked as one of the world's most competitive economies; it is one of the key financial hubs of Asia," says Jarinya Jirojkul, CEO of Sri Trang Gloves, in an interview with The Edge Singapore. "It has a strategic location, and its financial infrastructure is good. It offers stability and is an asset to the global market. That is why we chose SGX," says Jarinya, adding that the company had begun mulling the listing in late-2020 following an invitation from SGX to its chairman Dr Viyavood Sincharoenkul.
Looking further ahead, Sri Trang Gloves expects demand for its rubber gloves to remain high even in the long-term, as it believes gloves will become standard personal protective equipment in developed and emerging markets. Beyond the hospitals and clinics sector, Sri Trang Gloves reports an increase in demand from industries such as food and catering, transportation and security. "We expect demand for gloves in non-medical use to continue globally," says Jarinya.
STGT สร้างภูมิคุ้มกันหมู่ ฉีดวัคซีนแก่พนักงานครบ 2 เข็ม ยึดนโยบายการดูแลพนักงานและสังคมมุ่งดำเนินธุรกิจอย่างยั่งยืน
STGT receives stand-alone A credit rating, reinforcing its business and financial strength
STGT to reopen Trang plant on June 16, with 11 strict anti-Covid-19 measures to ensure consumers' confidence